CBR Moot Structure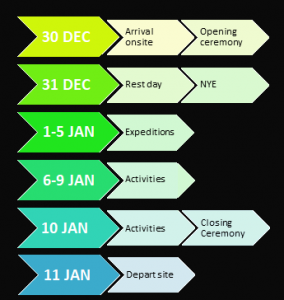 Not all onsite activities will be run every day, there will be some you will need to register for within the registration system, this will also show when they are running. The rest of them will be not need to be registered for and you will just be able to show up and participate in the activity.
Day Activities (listed below): 09:00 – 12:00 then 14:00 – 18:00 
The theme of CBR Moot is Creating Better Rovers which is inspired by the idea that CBR Moot will challenge all members who attend to find the best in themselves and push their boundaries to become a better Rover. Operating on the newly implemented Youth Program within Australia we hope that all members who attend will be able to experience a large range of activities encompassing scouting skills and local environment.
Night Activities (listed below): 19:30 – onwards
More activities will be released closer to opening however there will be multiple zones with different activities to cover a wide array of interests.  Activities will be located both within and outside of the bar / arena area.
Cafe Open times: Yet to be Confirmed
To purchase iconic Australian snacks such as Tim Tams and Milo. If there is something in particular those in your contingent are looking forward to trying please let the International Liaison know before the start of CBR Moot.
Bar Open times: 19:30/20:00 – 00:00 (Last call)
Beer Garden: 17:00 – 18:30 Then reopens at 19:30/20:00 – 00:00 (Last call) 
Admin Open times: Throughout the Day
Food
CBR Moot is fully catered and will be able to accommodate a variety of dietary restrictions. These should be entered into the registration system when registering, however you will be able to update closer to the date should it be required.
Day and Night Activity List:
| | | |
| --- | --- | --- |
| ·        Adulting workshops | ·        Ball Run | ·        Bathbomb making |
| ·        Boardgames/ Cards | ·        Body Paints | ·        Bubbles |
| ·        Candle Making | ·        Cargo Nets | ·        Carving |
| ·        Chain Mail Jewellery | ·        Coding Challenges | ·        Drag Show |
| ·        Engineering challenges | ·        FaceWall | ·        Fairy Floss |
| ·        Friendship bracelets | ·        Frisbee Golf | ·        Geocaching |
| ·        Geocaching | ·        Giant board games | ·        Group painting |
| ·        Hammocks | ·        Hovercraft building | ·        Illusion Spinners |
| ·        International Games | ·        Karaoke | ·        Knitting |
| ·        Laser tag | ·        Leather work | ·        Mario Kart |
| ·        Massage | ·        Minecraft | ·        Mock Tails |
| ·        Mosaic | ·        Murder Mystery | ·        Obstacle Course |
| ·        Old school Movies | ·        Oobleck | ·        Origami |
| ·        Popcorn | ·        Renters panel | ·        Rudy Goldberg |
| ·        Sewing | ·        Sexual health trivia | ·        Slack Lining |
| ·        Slime | ·        Slip n Slide Hockey | ·        Sock Wrestling |
| ·        Solar Damper | ·        Speed friendship dating | ·        Sports Ball Bucket |
| ·        Strawberry DNA | ·        Tea/ Coffee | ·        Trivia |
| ·        Yoga |   |   |
Please note these are subject to change