CBR Moot Structure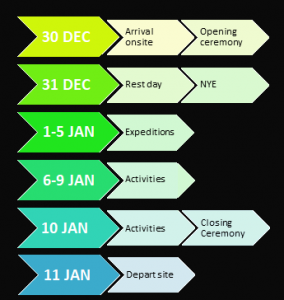 Most of these activities require no prior knowledge or ability. For instance, if you've never knitted before we'll help you learn and if you're an expert you can jump straight in to knitting a hat for a premature baby. All abilities and interests levels are welcome.
All of these activities are designed for you to attend with friends or on your own. Never fear the single life, just come along have some fun and make some new friends as you go. If you want to come as a group, you'll still all need to book in and, well, that level of organisation is entirely up to you!
Missed out on the time slot or activity you wanted? Never fear, sometimes people don't show up. Feel free to wander around and see if any space are free (both at the beginning of a session and half way through). There is NO GUARANTEE of spaces and it'll be first in/ whoever arrives as space frees up but trying your luck is always better than having a sulk. 
NB =  a non booked activity, show up if/ when you want
The 10th (Final Day) will be our No FOMO event, re-doing some of the activities that were particularly popular through the Moot.
Onsite Activities Schedule:
Day Activities: 09:00 – 12:00 then 14:00 – 17:00
Night Activities: 19:30 – onwards
Hard to read? Click on the schedule to zoom
Still not satisfied with the activities? We'll also have:
Swimming Pool
Frisbee Golf
Geocaching/ orienteering
Sports Balls
WaterSlide
Mist Tent
Rainbow Recharge Retreat
Giant Board Games
Pool Table
Creating a Better World Space
Hammocks
Obstacle Course
And of course the myriad of Night Activities!
Other Things that are onsite:
Cafe Open times: Throughout the Day and into the evening
Bar Open times: 19:30/20:00 – 00:00 (Last call)
Beer Garden: 17:00 – 18:30 Then reopens at 19:30/20:00 – 00:00 (Last call)
Admin Open times: Throughout the Day
Food: CBR Moot is fully catered and will be able to accommodate a variety of dietary restrictions. These should be entered into the registration system.
Please note that Onsite Activities are not bookable for staff members; Participants that select multiple of the same activity in a row maybe removed from some depending on availability for that activity and these activities are subject to change.